Liver Cancer Treatments
in

Hyderabad
Interventional radiology treatments in Liver cancer
Cancer treatments by interventional radiologist comprises two treatment methods, supportive/ symptomatic treatments and disease modifying treatments
Disease modifying treatments
Supportive/ symtomatic treatments
Biliary drainage and stenting (PTBD)

Neo-adjuvant embolisation eg: portal vein embolisation
Cancers which are not operable and high risk for surgical excision can be treated by various minimally invasive interventional ablative techniques.

RFA ( Radiofrequency ablation)

TACE ( Transarterial chemoembolization)
It is a selective localised chemotherapy injected into the liver blood vessel supplying the tumor. The chemotherapeutic agent is mixed with either iodised oil or micro beads and injected into the timor circulation. The procedure makes sure that maximum chemotherapy agent is targeted to the tumor while avoiding side effects on the body. After the procedure the tumor shrinks in size or stabilised thereby prolonging the survival of the patient.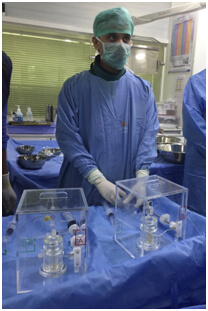 TARE procedure is done for patients of locally advanced liver cancer who are otherwise not suitable candidates for liver resection or liver transplantation. Following liver tumors can be treated by TARE
1. Hepatocellular carcinoma (HCC) - stage B and stage C. Specific case scenarios - HCC with portal vein thrombosis, Large inoperable HCC, HCC with border line liver function, Multicentric HCC. In all these cases it can be done in isolation or as a bridge to transplant

Intrahepatic cholangiocarcinoma (ICC)

Neuroendocrine liver metastasis

Colorectal liver metastasis
TARE is a palliative, not a curative treatment. But the patient benefits by extending their lives and improving quality of life. In some cases, it helps in downsizing the tumour load and helps in bridging for liver transplantation. The internal radiation therapy (microspheres) is delivered to the tumour through a catheter placed in the hepatic artery. Once infused, the microsphere lodge in the blood vessels near the tumour where they give off small amounts of radiation to the tumor site for several days. The radiation travels very short distance, so its effects are limited mainly to the tumour.
TARE being done for right lobe HCC with portal vein thrombosis
2. SUPPORTIVE/ SYMTOMATIC TREATMENTS
Portal vein embolisation
Portal vein embolization is a technique used before liver resection to increase the size of liver segments that will remain after surgery. This therapy redirects portal blood to segments of the future liver remnant (FLR), resulting in hypertrophy. It is indicated when the FLR is either too small to support essential function or marginal in size and associated with a complicated postoperative course. When appropriately applied, PVE has been shown to reduce postoperative morbidity and increase the number of patients eligible for curative intent resection.

PTBD ( Percutaneous transhepatic biliary drainage)
In cancers of bile ducts, pancreatic head, the gallbladder, the stomach or lymph nodes, there may be obstruction of bile ducts causing obstructive jaundice. Percutaneous transheptic biliary drainage (PTBD) is a procedure to drain the bile ducts in the presence of a blockage or damage that prevents normal bile drainage. Using fluoroscopy (live x-ray), a needle is guided into the bile ducts, where a contrast agent is injected to allow visualization on a monitor. A catheter is placed into the bile duct to allow the bile to drain out into a bag outside the body. To prevent further drainage difficulties, a stent may be placed in a blocked or restricted bile duct to hold it open and allow bile to flow freely.