Varicose Veins Treatment
in

Hyderabad
Varicose veins and their symptoms
Varicose veins are abnormally large veins commonly seen in the legs. Normally, blood circulates from the heart to the legs via arteries and back to the heart through veins. Veins contain one-way valves which allow blood to return from the legs against gravity. If the valves leak, blood pools in leg veins which can become enlarged or varicose. The symptoms of varicose veins include aching pain, swelling, skin irritation or sores (ulcers), skin discoloration, inflammation in the vein (phlebitis)
Heredity is a factor in venous reflux disease – if your parents or siblings have had varicose veins, you're more likely to develop them – and people who are obese or have had multiple pregnancies are particularly susceptible, because the extra weight adds strain to the veins. Women are more vulnerable to the problem than men, partly because the hormonal changes brought on by menstruation, menopause and hormone-based drug therapy can relax vein walls and cause venous reflux.
Your lifestyle, particularly physical activity, can affect your odds of developing varicose veins as well. People whose careers require them to stand in place for long periods of time – nurses, teachers, waitresses, flight attendants and other service personnel, for example – have a higher-than-average risk of venous disease. So do people who do a good deal of heavy lifting. Once it appears, venous reflux disease never goes away by itself – it's a progressive condition that can only worsen unless treated. Fortunately, the minimally-invasive, device-based advances in medical technology that have so profoundly impacted heart, lung and brain surgery in recent years are now having a similarly revolutionary impact on the treatment of varicose veins. Endovenous ablation is an image-guided, minimally invasive treatment for varicose veins. It uses radiofrequency or laser energy to cauterize (burn) and close the varicose veins.
Endovenous ablation for varicose veins
Varicose vein treatment, also known as endovenous ablation, uses radiofrequency or laser energy to cauterize and close varicose veins in the legs. It may be used for cosmetic purposes, but it is most commonly used to help alleviate related symptoms such as aching, swelling, skin irritation, discoloration or inflammation. Endovenous ablation is safe, less invasive than conventional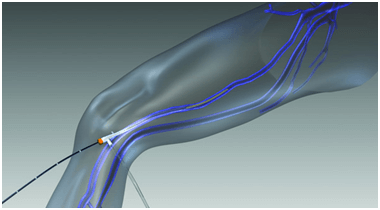 surgery, and leaves virtually no scar
About the procedure
You will receive a sedative and a regional anesthesia, or you may receive general anesthesia. Using an ultrasound to identify the location, your surgeon will insert a catheter into the vein to be treated. This is typically done just below the knee, but can occasionally be done at the level of the ankle. Using ultrasound, the surgeon will inject a solution of salt water and anesthetic agent along the length of the vein to be treated. Following this, either laser or radiofrequency ablation will be performed.
How will be the recovery after the procedure?
The procedure itself generally takes two to three hours. This procedure is typically performed in the outpatient setting, and you can expect to be discharged home several hours after the procedure is complete. You can start doing your daily activities from the next day. Full recovery will take approximately one week.