The role of interventions in medically intractable portal hypertension
?
Refratctory variceal bleeding

Refractory ascitis and hydrothrax

Budd chairi syndrome

Hepatorenal and hepatopulmonary syndrome

Patients with above symptoms and MELD score less than 18 and Child Class A & B are ideal candidates for TIPSS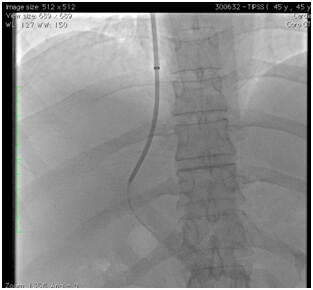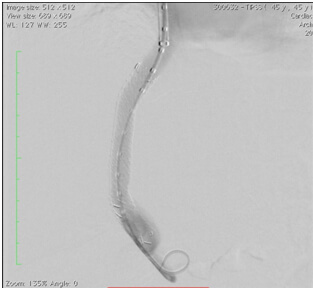 formation of a blood clot within the hepatic veins can lead to Budd–Chiari syndrome. A minority of patients can be treated medically with sodium restriction, diuretics to control ascites, anticoagulants such as heparin and warfarin, and general symptomatic management. Milder forms of Budd–Chiari may be treated with surgical shunts to divert blood flow around the obstruction or the liver itself. Shunts must be placed early after diagnosis for best results. The tipss-procedure-in-hyderabad is similar to a surgical shunt: it accomplishes the same goal but has a lower procedure-related mortality—a factor which has led to a growth in its popularity.

Interventions in Budd- Chiari syndrome
Hepatic venous plasty & venous stenting for hepatic vein stenosis
IVC plasty and stenting for IVC webs
Direct intrahepatic portosystemic shunt (DIPS)
If all the hepatic veins are blocked, a direct portocaval shunting can be done to relieve portal hypertension and stabilise the hepatic parenchymal dysfunction. The portal vein can be approached via the intrahepatic part of inferior vena cava, a procedure called, DIPS (Direct Intrahepatic Portocaval Shunt). Patients with stenosis or vena caval obstruction may benefit from angioplasty and stenting.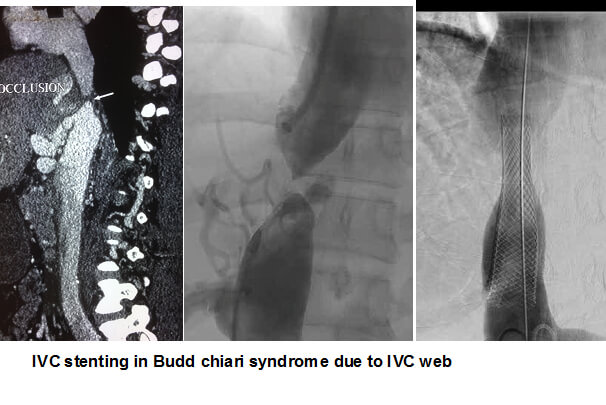 TIPSS ( TRANSJUGULAR INTRAHEPATIC PORTOSYSTEMIC SHUNT)
Normally, blood coming from esophagus, stomach, and intestines first flows through the liver. When the liver has a lot of damage and there are blockages, blood cannot flow through it very easily. This is called portal hypertension (increased pressure and backup of the portal vein). The veins can then break open (rupture), causing serious bleeding. Portal hypertension and its complications ( variceal bleeding, ascitis etc) can be treated by medical management using beta blockers, somatostatins, diuretics etc or by local endoscopic treatments including variceal banding/sclerotherapy . In cases of medically intractable portal hypertension, interventional treatments including Transjugular intrahepatic portosystemic systemic shunt (TIPSS) can be helpful sometimes life saving. Transjugular Intrahepatic Portosystemic Shunt or TIPSS is a procedure that uses imaging guidance to connect the portal vein to the hepatic vein in the liver. A small metal device called a stent is placed to keep the connection open and allow it to bring blood draining from the bowel back to the heart while avoiding the liver.
The TIPSS procedure
Transjugular intrahepatic portosystemic shunts are typically placed by an interventional radiologist under fluoroscopic guidance via the jugular route. Access to the liver is gained, as the name 'transjugular' suggests, via the internal jugular vein in the neck. Once access is gained, a channel or shunt is created between the hepatic vein (or IVC) to the large portal vein, near the center of the liver. The shunt is maintained by placing a special mesh tube known as a stent or endograft to maintain the tract between the higher-pressure portal vein and the lower-pressure hepatic vein. It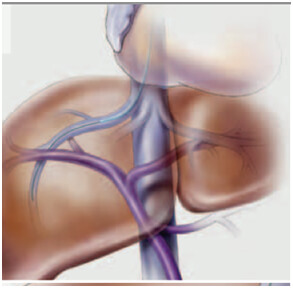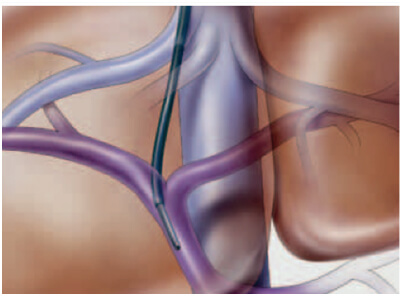 can be done under conscious sedation, by placing a small hole/ incision in the neck
Indications for TIPSS

Refractory variceal bleeding

Refractory ascitis and hydrothorax

Budd chiari syndrome

Hepatorenal and hepatopulmonary syndrome
Patients with above symptoms and MELD score less than 18 and Child Class A & B are ideal candidates for TIPSS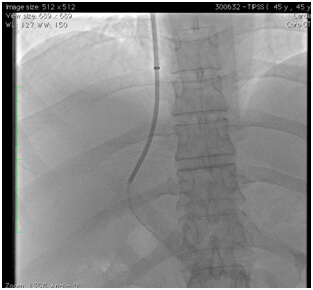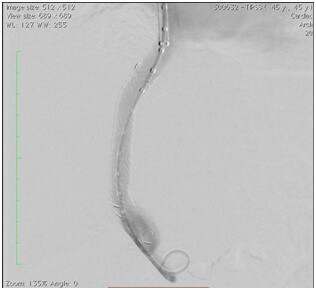 TIPSS procedure for refractory ascitis due to cirrhosis with portal hypertension
Modified TIPSS or Direct Intrahepatic Portosystemic Shunt
prevent approaching the portal vein in the classical way. In these cases the portal vein is accessed with the creation of a direct tract between the portal vein and the IVC. This procedure can be done by either directly through a percutaneous trans hepatic/ portal route or through the trans jugular/ hepatic route. Modified TIPSS in Budd- chiari syndrome has very good outcomes in stabilising the hepatocellular damage and progression to liver failure.
What are the limitations of TIPSS
?
Patients with more advanced liver disease are at greater risk for worsening liver failure after TIPSS. If the liver failure is severe, a TIPS may not be the best use and a different procedure may be needed to control the symptoms. They are also at risk for encephalopathy, which is an alteration of normal brain function that can lead to confusion. This is because toxic substances in the bloodstream are ordinarily filtered out by the liver. The TIPSS may cause too much of these substances to bypass the liver, so a patient who already has encephalopathy because of their liver disease may not be a good candidate for the procedure. Encephalopathy can be treated with certain medications, a special diet or, by revising the stent, but sometimes the stent must be blocked off intentionally to solve the problem.