Why Adrenal Vein Sampling  is the Best Treatment for Primary Aldosteronism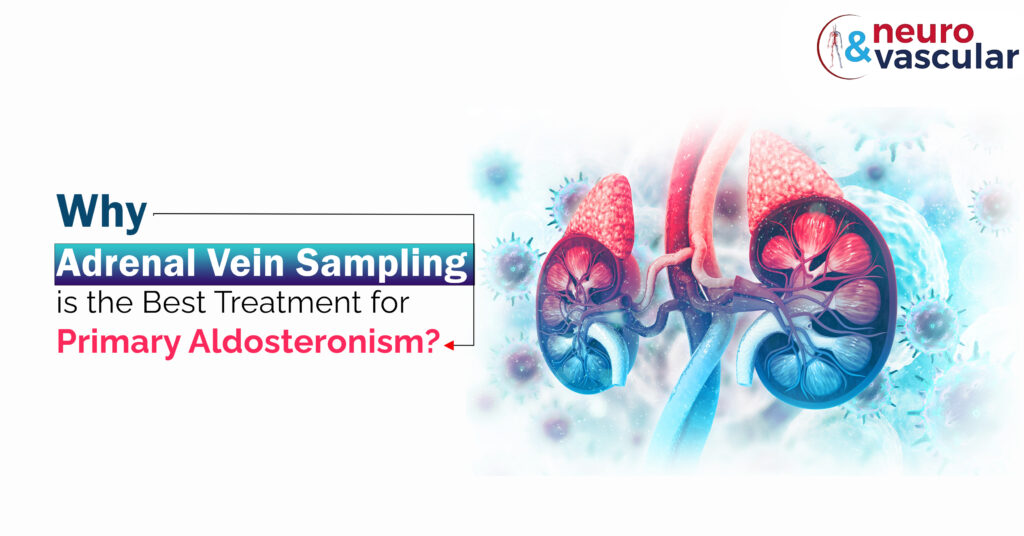 What is venous sampling?
Venous sampling is a procedure that involves inserting a catheter (thin tube) into a specific vein or veins, taking blood samples from them and sending them to the laboratory for testing. The results can help the doctors looking after you to make decisions about any future treatment.
What is Adrenal Vein Sampling?
Adrenal vein sampling(AVS) is used to determine if autonomous hormone production is unilateral or bilateral and to guide further treatment, blood is collected from the adrenal veins using a catheter. This is commonly performed to assist patients with primary aldosteronism, a type of high blood pressure, decide whether to have surgery or get medication treatment. Patients with Cushing syndrome, an endocrine disease where high levels of cortisol may be seen in the blood, are much less likely to undergo it.
Adrenal vein sampling(AVS) is an invasive test that involves a complex technique that only skilled and experienced interventional radiologists can perform with a satisfactory success rate of 90% or more.
The procedure of adrenal vein sampling is performed to aid in the diagnosis of endocrine diseases. It is the method that is most efficient at determining Conn's syndrome. Your interventional radiologist will take blood samples from each of your adrenal glands during this minimally invasive technique to identify which gland is overactive. Your referring doctor will use this information to decide the best course of action for treating your endocrine disease.
Conditions for Adrenal Vein Sampling:
Primary aldosteronism
Aldosterone-producing adenoma
Bilateral idiopathic hyperaldosteronism
moderate to severe hypertension
Having high blood pressure that requires multiple drugs to manage (resistant hypertension)
excessive BP and low potassium levels (hypokalemia)
What are the symptoms of primary aldosteronism (Conn's syndrome)?
Primary aldosteronism generally causes high blood pressure with low potassium.
Other symptoms may include:
Excessive thirst
Fatigue
Frequent urination
Headache
Muscle cramps
Visual disturbances
Weakness or tingling
Conn's syndrome causes:
High blood pressure (hypertension), which can be quite severe
Lower than-normal potassium levels in the blood
An increased volume of blood in the body
Diagnosis for Adrenal Vein Sampling?
The Interventional Radiologist may recommend further testing to rule out adrenal gland tumors. These may include:
Computerized tomography (CT) scan, which uses X-rays to create pictures of internal body structures.
Magnetic resonance imaging (MRI) uses radio waves and high-powered magnets to visualize the inside of your body.
Adrenal Vein Sampling Procedure
In this Adrenal Vein Sampling Procedure, an interventional radiologist will access a vein in either the patient's neck or groin, and thread a catheter (small tube) to the veins draining the adrenal glands. This will be done under x-ray guidance. After injecting a small amount of contrast (x-ray dye) to confirm positioning, samples of blood will be taken from both the right and left adrenal veins; these samples will be sent to the lab for analysis. Once samples are taken, the catheter will be removed and gentle pressure will be applied to stop any bleeding. The patient is able to go home shortly after the procedure.
Complications:
Minor pain, bruising and/or infection from the IV cannula. This may require treatment with antibiotics.
Pain or discomfort at the puncture site. This may require medication.
Bleeding or bruising could occur. This is usually stopped by applying pressure and/or ice to the puncture site. This is more common if you take Aspirin, Warfarin, Clopidogrel (Plavix and Iscover), or Dipyridamole (Persantin and Asasantin).
Failure of local anesthetic may require a further injection of anesthetic or a different method of anesthesia may be used.
Nerve damage is usually temporary, and should get better over a period of time. Permanent nerve damage is rare.
Contraindications:
1. Patient prefers lifelong medical treatment.
2. Young patients (e.g. patients less than 40 years with recent-onset primary aldosteronism and clear-cut unilateral cortical adenoma on imaging)
3. Proven familial hyperaldosteronism type I or III.
4. Poor surgical candidate for adrenalectomy.
5. Adrenocortical Carcinoma.
6. Patient accepts a 20-50% chance of having the wrong adrenal removed.
Frequently Asked Questions:
How long does adrenal vein sampling take?
Adrenal vein sampling should be a rapid, safe, and reliable procedure. In our experience, most studies are performed within 15–25 minutes from local anesthetic infiltration to the finish of the procedure.
Does adrenal vein sampling hurt?
You may feel back discomfort while contrast material is injected into the adrenal vein, particularly on the right side. You should not be able to feel the catheters inside your body. You may feel mild pressure in your back or neck during the injection.
What happens when there is too much aldosterone?
Hyperaldosteronism is a condition in which one or both adrenal glands produce too much of the hormone aldosterone. This can lower potassium levels, which can cause weakness and muscle spasms. Hyperaldosteronism can be treated with medication, or if necessary, surgery.
About the Author:
Name: DR . SURESH GIRAGANI
INTERVENTIONAL RADIOLOGIST
DR. SURESH GIRAGANI CONSULTANT INTERVENTIONAL RADIOLOGIST at Apollo hospitals Jubilee Hills has more than sixteen years of clinical experience in vascular interventions with a special interest in neurovascular and peripheral vascular disease interventional procedures.